Battle Re-enactment

(or, Right up your Celt!)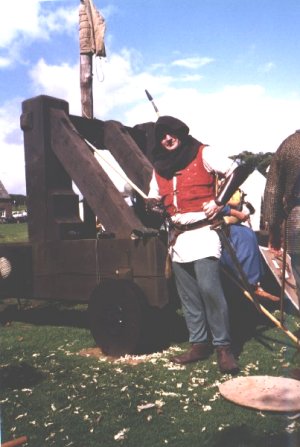 Back at the beginning of the '90s I fell in with a wonderful bunch of reprobates who shared a common love of a) history b) a few beers and c) a good scrap. This was my intro to the world of battle re-enactment; to the sceptical (yes, Caravan Club, this means you!) a bunch of sad sods who dress up as something they're not, and to the more open-minded, a splendid mix of a weekend away, a good rough and tumble, plenty to drink, and a hell of a laugh.
They called themselves Jomsvikings after the historical Vike mercenary band, and through the early 90's the group did show after show at a variety of venues, most of them involving steam traction engines and fairground organs (how we came to hate those things!)
In the end, the Viking side of things dried up, so a few of us carried on as the Conditteri, joining in with the much larger mediaeval re-enactment community and doing shows at places like Tewkesbury and Bosworth. As far as I know, they still are, but I've long since dropped out; well, you can't do everything.
If you want to see a good show, though, go to Tewkesbury, or go see the Ermine Street Guard - the Roman mob you've probably seen on telly. Or come to Tatton Park Medieaval Fayre every June or so.